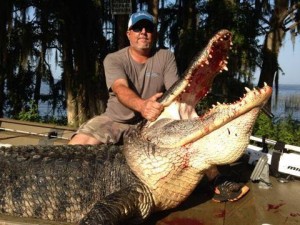 Your evening will begin at Wojos bait and tackle where you'll meet your Orlando alligator hunting guide 1 hour prior to the start of the hunt. Everyone participating in the hunt must arrive with an alligator trapping license which can be purchased at xxx. Your guide will discuss all safety issues, and familiarize you with the equipment you'll be using on your hunt. You'll then follow your guide to the launch point to begin your hunt.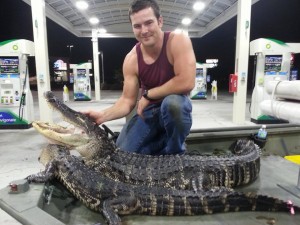 You'll be hunting under the cover darkness, assisted by headlights mounted on your guide boat. As you move through the waters of Orlando's lakes and swamps, both you and your guide will be on the lookout for the glowing eyes of monster gators, just breaking the surface of the water, staring back at you as they silently glide through the water in search of their next meal. The sensation of stalking you're prey under the cover of darkness will definitely get your blood flowing, and when the eyes appear from out of the darkness, the excitement really begins, as you play a game of cat and mouse in an attempt to approach within striking distance of your trophy gator.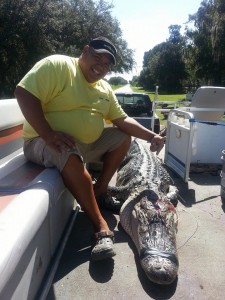 When the moment of truth arrives, you'll attempt to attach a line to the gator. Your alligator hunting guide will instruct you on what equipment to use for the most effective strike. You'll have a variety of weapons at your disposal including rod and reel with large snagging hooks, bow and arrow, crossbow and harpoon. Once a line is attached, your guide will assist you in battle as you bring your gator within arms length striking a final blow using a bang stick.